Discover more from Lights On
Tracking the climate, energy and business debate in India and beyond
#8 - India's coal is open for business
But will investors take up the offer?
Hello and welcome to this week's edition of Lights On, a newsletter that brings you the key stories on energy and climate change in South Asia. 
From next week, I am going to introduce some changes that I hope will make the newsletter easier to read and more useful - let me know what you think by replying to this email or tweeting at @loudelbello.
On Monday you'll get a roundup of the key news to follow to start your week

On Thursday, I will be sending my regular story, in a more succinct format
I also set up a page where you can buy me a digital drink to help me keep Lights On going. Reporting and writing this newsletter is a lot of work and I plan to eventually offer a paid membership option. Meanwhile, any small, one-off contribution would be super appreciated:
Saving India's coal jobs
PM Modi pitched a 'Self Reliant India' as a pathway to recovery after the Covid crisis, a vision that involves the coal sector too

It's hard to see why foreign investors would be keen to take part in the revival of an industry that is on its way out worldwide
Coal is the backbone of India's energy system, and is expected to keep powering its growth for a few decades still. But the sector is in dire straits and in need of a boost for a chance of saving nearly half a million of mining jobs, at a time when unemployment is sky high after the lockdown. PM Narendra Modi's solution is to open India's mines for business.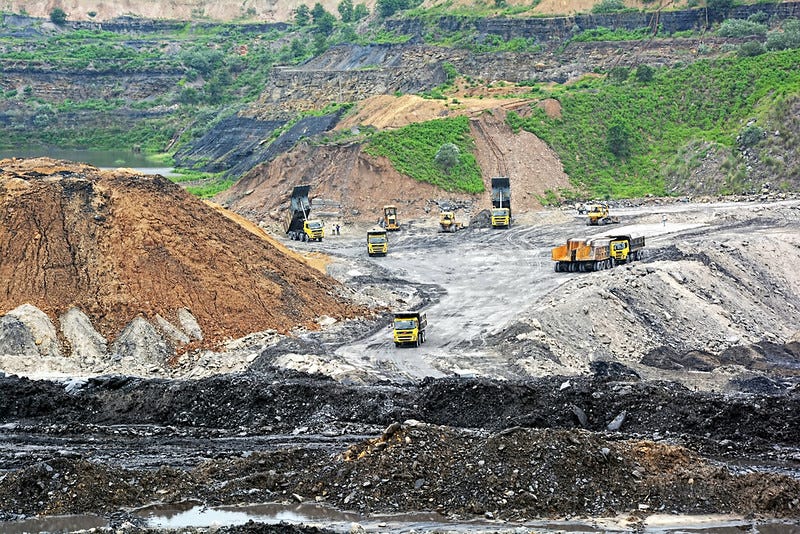 The Lakhanpur coal mines, Jharsuguda district, Odisha - Flickr/India Water Portal
Coal suffered the most during lockdown, when energy demand dropped by nearly 30 percent but solar, wind and hydropower maintained their pre-crisis levels. Thermal power plants in India are also very inefficient, mostly because there are simply too many of them compared to the demand. Given the plants are not working at optimal capacity, they tend to deteriorate and the loss of revenue leads to higher prices for each unit of energy. This in turn may lead to thermal plants becoming unsustainable and becoming "non performing", another word for defaulting.
And if the situation wasn't bad enough, here's the catch. Not only does India have too many thermal plants, it is also importing *a lot* of coal. According to the Ministry of Coal, in 2018-18 India produced 728.72 million tonnes of coal. In the same year, it imported 235.24 million tonnes, mostly from Indonesia and South Africa. If you think that coal costs about $50 a tonne, that's a huge amount of money that is hemorrhaging out of the country, also putting India in a precarious position in terms of energy security.
A bold pitch
But what if India could attract foreign investors instead of paying for their resources? That's what PM Modi has set out to do by putting 41 coal mines up for auction, in the hope the new owners will manage them better than the government-owned Coal India has done so far, also increasing tax revenues in the process. This also sits particularly well with the PM's motto for the post Covid recovery: a "Self Reliant India".
"Opening of coal mines for commercial mining will be bringing the coal sector out of decades of lockdown," he said last week. Since India has the fourth largest coal reserves in the world, and is the world's second largest producer, Modi asked, why can't it become one of the largest coal exporters in the world?
Well. There are many reasons why things may not go as planned. First, the quality of Indian coal is pretty bad. With an average 30 percent ash content, Indian coal burns pretty poorly and needs to be washed, a process that adds to the cost but improves efficiency and reduces emissions. Having previously promised to enforce coal washing as part of its climate targets, the Ministry of Environment, Forests and Climate Change had a change of heart, removing the mandatory clause.
Toxic coal
But who wants to invest in bad coal, especially now that fossil fuels are becoming toxic not only for the environment, but also for investors? Credit rating agencies are now increasingly looking at environmental, social and governance (ESG) factors for their assessments, and banks are reluctant to lend money for fossil fuels projects, (at least on paper).
"What the government is anticipating is that global coal giants are going to come in and bring serious competition to Coal India," says Tim Buckley, director of energy finance studies at the Institute for Energy Economics & Financial Analysis (IEEFA) "and that is just not going to happen." Buckley cites mining giants such as BHP, Rio Tinto and Peabody, noting that all of them are currently trying to wean off coal or are financially distressed. "As much as India adheres to the principle of common but differentiated responsibility," which allows for less stringent emissions regulations, "the global investors that India is appealing to are totally beholden to the Paris Climate Agreement, most of them have formally acknowledged that as their mission statement," he adds.
Dream big
Desperate times call for desperate measures. But Buckley says they also call for out of the box thinking. And what if, as fossil fuels falter across the globe, a lifeline for India's growth and energy security came from an idea that on the face of it looks much crazier than trying to revive the dying coal sector?
The 'One Sun One World One Grid' initiative dreams of a global grid that distributes renewable power across the planet. A step too far into the sci-fi world? Maybe, but India is not the only one dreaming big - China is exploring a very similar idea. And what if India brought this unrealistic idea down to earth, starting by reinforcing its own renewable industry and piloting the project by connecting with Bangladesh and other neighbouring nations? It's a controversial plan, and it may not generate half a million jobs right away, but it doesn't look like putting mines on the international market will do that either.
A global solar grid may be decades away, but Modi's coal plans will be put to the test pretty soon. In the coming weeks or months we'll see if investors decide to take the gamble.

---
What you need to know this week
China vs India
Since I wrote about the border conflict between China and India, things have escalated. Twenty Indian soldiers were killed, and Indians are now calling for bans on Chinese goods and an end to all deals with China. Is this going to happen? What would India stand to lose by severing ties with her powerful neighbour?

Not so fast - China may be losing its 5G deal with India, but its firms still have a firm footing in the solar sector. The latest deal will bring $300 million to Gujarat, for a new manufacturing unit.
In fact, Chinese firms supply equipment for 78 percent of India's solar market, according to the Business Standard, and it's not going to be easy to edge out of Chinese solar products in just a few years, as Gautam Adani, chairman of Adani Enterprises, has reportedly said.

Old habits die hard - In 2018 India tried to promote its domestic solar industry by slapping a 25 percent anti dumping tariff on Chinese modules, and it went horribly. The tariffs were waived this year, but given the tensions at the border, the government is giving the plan another go, with a 20 percent barrier on green energy equipment. There is no sign whatsoever that the outcome will be better this time. 
The planet's on fire
While the world is busy dealing with the coronavirus crisis, global warming seems to have fallen off the radar. But new record high temperatures should have us very worried. 

Close to home - Last week I mentioned how India's first national climate assessment painted a bleak picture of the country's future under extreme temperatures, but when it comes to climate change, what happens in one corner of the world always matters to the rest of the planet too. Case in point - a new study found that the large algae blooms that can be seen from space in the Arabian Sea are being caused by the warming of the Himalayan mountains thousands of miles away. The Third Pole has the story.

The canary in the coal mine - Last Saturday, a remote Siberian town, one of the coldest on Earth, recorded a potentially record breaking temperature. The reason why we should care about a place so far away is that these little settlements are like the canary in the coal mine - because the Arctic is warming at a much higher rate than the rest of the planet, what happens there offers a peek into what is likely to happen to the rest of the globe in the not so distant future.
---
If you've been forwarded this newsletter and you'd like to read it every week, you can subscribe below. Tip: if you add my address to your contacts, this email won't end up in the spam or promotion folder!