Discover more from Lights On
Tracking the climate, energy and business debate in India and beyond
Lights On Briefing: Discoms in deep trouble and more
What you need to know to start the week
Good afternoon and happy Monday!
Here's a selection of stories to watch this week, plus a pinch of my confidential intel to help you anticipate what may come next.
Thank you to all readers who replied to my membership survey last week with flattering feedback and thought provoking ideas. Many of you asked for more climate science stories, environmental justice and corporate climate plans. Catch up with my elevator pitch, and if you want to have a say, I am keeping the survey open for a few more days (it takes just two minutes to fill out):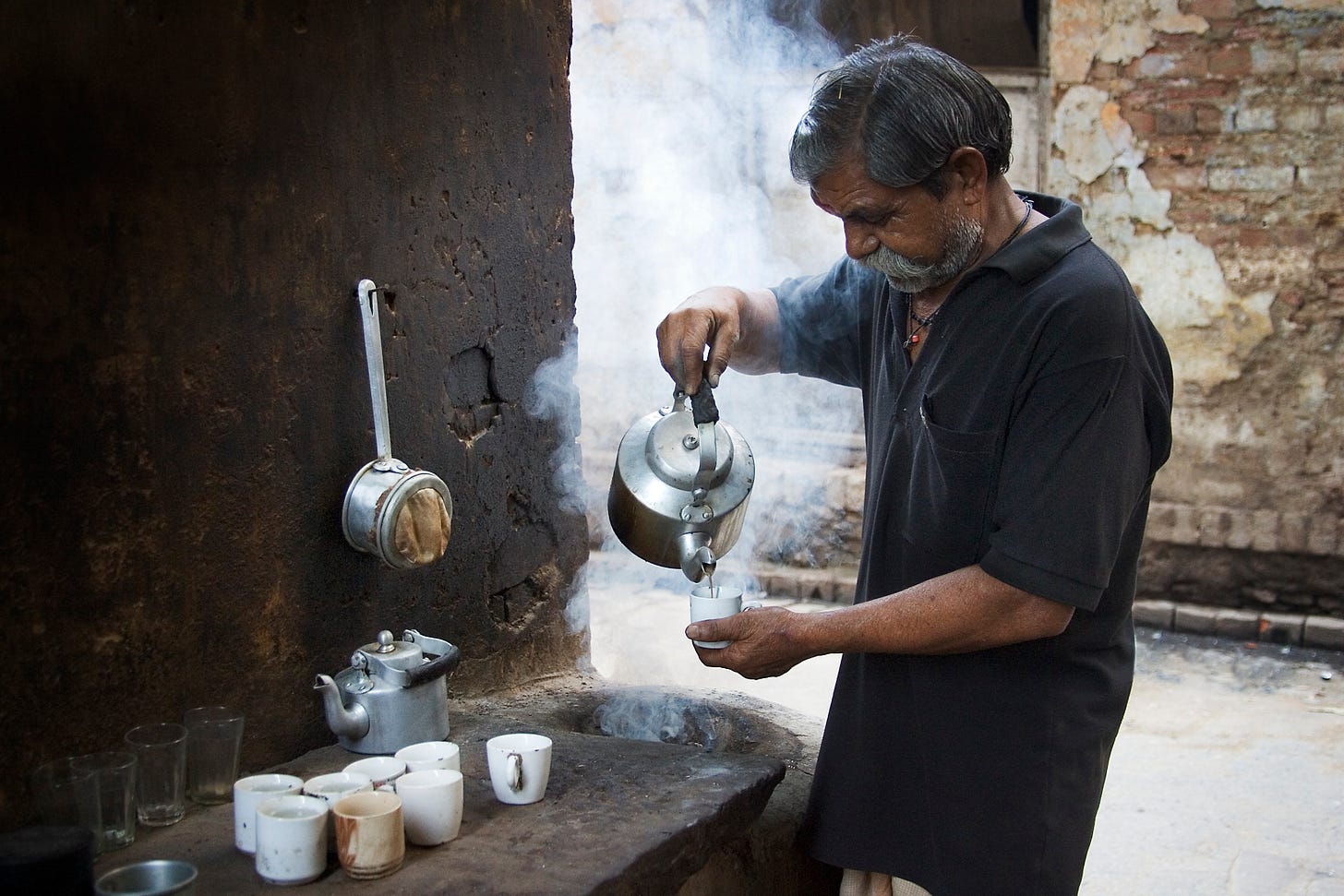 Chai seller in Varanasi. Image credit - Wikimedia Commons
Discoms in deep trouble
Despite the $12 billion (900 billion rupees) cash injection promised by the government in May to ease the financial crisis crippling India's power distribution sector, power producers selling their energy to distribution companies (discoms) are still due $17.3 billion (1.3 trillion rupees). This is a 47 percent increase compared to the same period in 2019.
While the government is reportedly planning on a new boost to help discoms clear their debts after the coronavirus crisis, analysts believe that these short term solutions are not going to heal the sector. Instead, many hope for a more holistic approach allowing discoms to move away from outdated contracts with coal power producers, and towards a greater share of renewables.
Double whammy
The war on Chinese solar rages on. The Finance Ministry has extended the existing safeguard duties (SGD) on the import of solar cells and modules from China, Thailand and Vietnam, which were due to expire this year, for another 12 months starting from the end of July.
The 25 percent safeguard duty, announced on July 30, 2018, was meant to protect domestic cell and module manufacturers from Chinese competition, giving them time to develop local capacity. According to The Economic Times, the extended safeguard duties will likely be charged on top of the new aggressive anti dumping duties announced last month by the Ministry of Power, a real double whammy for an industry that still imports nearly all of its solar components from China, Thailand and Malaysia. 
Ring fencing supply chains
Meanwhile, India is banning 'non local' suppliers from competing to supply goods and services to 110 power plants. Manufacturers who use less than 20 percent of Indian goods and services for their operations won't be able to participate in the tenders for equipment such as transformers, switch gears, cables and insulators, which are imported in large quantities despite also being available locally. While PM Narendra Modi's campaign for a 'self reliant India' is not about 'dragging India back to import substitution and isolationism,' according to a senior economic adviser, we have seen quite a lot of that lately.
Let cities breathe
The Supreme court has put its foot down after an uptick in sales of polluting vehicles during the lockdown, just before new more restrictive emissions standards kicked in on April 1. On Friday, the apex court barred the registration of all sub-standard BS-IV (which stands for Bharat stage) vehicles until further notice, but the matter will be heard again very soon, on August 13.
Compared to the existing BS-IV standard, the new BS-VI norms mandate an 80 percent reduction in particulate matter, a much lower presence of sulphur in the fuel and a steep reduction of nitrogen oxides from diesel cars. A much needed upgrade given Indian cities are among the world's most polluted - with off-the charts particulate matter in the air during the winter season and dangerous levels of nitrogen oxides.
Plummeting oil imports
India's crude oil imports touched a five-year low, according to new government data. "This is likely driven by not yet fully recovered oil demand and expectation that it might take longer to have Indian oil demand rising strongly again," UBS analyst Giovanni Staunovo told Reuters. While crashing energy demand during the 40 days of lockdown has spared the renewable sector, which maintained priority access to the grid during that time, the fossil fuel sector was hit particularly badly, and Indian refineries are now cutting costs by temporarily shutting down some units.
Pakistan's golden age of coal
Across the border in Pakistan coal is making a comeback, thanks to financial support from China. Coal power generation jumped a record 57 percent in the fiscal year through June, according to data from the government's National Electric Power Regulatory Authority. Due to the output of the country's first coal mine in the Thar desert region, backed by China under the Belt and Road initiative, coal now accounts for about a fifth of Pakistan's total energy output.
Busted!
India's grand plan to ramp up hydropower capacity on the Chenab river in Jammu and Kashmir may screech to a halt as an official enquiry alleges grave violations of central government guidelines, according to the newswire IANS. The $1.2 billion (90 billion rupees) Kiru power plant, approved in March 2019, was part of a push to increase the share of hydropower in India's energy mix, but also to fully utilise its share of water under the Indus Waters Treaty, putting pressure on the co-signatory Pakistan.
---
Research:
All-India Energy Demand Shows Signs of Recovery - According to the agency India Ratings and Research, energy demand in the country is showing signs of recovery: the decline in power demand narrowed in June 2020 due to the gradual lifting of lockdown for businesses and an increase in energy consumption at home with the summer season, when people crank up the air conditioning.
Tigers and their habitats under threat from the boost to the mining sector - A new government report on the status of tigers and their ecosystems in India highlights the risks of mining and other industrial activities to the predator's habitat, in contrast with controversial mainstream policies that ease environmental clearances for such projects.

---

That's all for today! If you are a subscriber, watch out for the story of the week on Thursday. If not, you can sign up below. As usual, you can get in touch with comments and confidential tips by replying to this email.